Woodley House has been tackling unmet need in Washington, DC, for more than 60 years. We remain dedicated to ensuring that DC's residents with mental health disorders receive the housing, care, and services they need. Your support is crucial to ensuring adults with mental health disorders have the resources they need to thrive on their way to recovery.
Donate
Your donation will provide housing, food, life skills training, and other services that transform the lives of adults with mental health disorders in our community.
Volunteer
Woodley House offers fun and fulfilling volunteer opportunities throughout the year. Volunteers play a major role in realizing Woodley House's mission to help residents with mental health disorders live full and healthy lives with dignity. In an effort to respect our volunteers' interests, we take great care in matching individuals with our needs. We offer opportunities and programs for all ages and cater to a variety of commitment levels. Sign up as an individual or register your group by emailing Sue Breitkopf at sbreitkopf @ woodleyhouse.org.
1
Food and Supplies Drive
Our annual Food and Supplies Drive will take place in February 2023. In the meantime, contact us to organize your own or donate through our Amazon Wish List.
Fall Planting Day
Woodley House Fall Planting Day is coming up on Saturday, Oct. 15. We are seeking volunteers to work from 10 am to 1 pm. The outdoor-only work will include such activities as planting bulbs and seeds, turning soil, trimming plants, pulling weeds, cleaning, and power washing. We ask that volunteers bring their own gloves and gardening tools. Please register to volunteer by Oct. 5 by contacting Sue Breitkopf at 
sbreitkopf@woodleyhouse.org
 or 202-830-3524 with questions. Volunteers should be 14 or older. In case of inclement weather, Woodley House Planting Day will be re-scheduled to a later date, to be determined.
Spring Fun Run/Walk/Roll
More information coming soon!
Other Opportunities
Contact Sue Breitkopf to learn more about the following:
Make-a-dinner program
Food runner program
DIY Society
Become a Volunteer
Woodley House offers fun and fulfilling volunteer opportunities throughout the year.
Shop for Woodley House
Your Amazon purchases can make a difference. Follow our link to Amazon Smile and a percentage of your purchase will be donated to Woodley House.
Donate a Car
In 3 easy steps you can support Woodley House via a car donation:
Fill out a form.
Schedule a pick-up of your vehicle.
Receive your IRS tax-deductible receipt and save on taxes!
Food Pantry
Donate food and supplies to our weekly Food Pantry or start your own food drive.
Drop Off
Woodley House cannot accept any opened food products or items with expired dates.
Suggested items:
Boxed mac and cheese
Dry pasta/rice
Crackers
Dry cereal
Canned salmon/tuna/spam
Canned soups and beans
Vegetable oil
Pasta sauce
Cake mix and frosting
Powdered milk
Jarred mayonnaise
Toothpaste/toothbrushes
Soap
Lotion
Deodorant
Travel-size toiletries
Shampoo
Sanitary products
Lysol spray/Clorox wipes
Bleach/rubbing alcohol
Laundry/dish soap
Hand sanitizer
Toilet paper/paper towels

Food Drives
Organizing a food drive can be a simple, fun, and effective way to help Woodley House combat food insecurity in our community. Consider organizing a food drive in your neighborhood or school, place of worship, or workplace. Every item collected does make a difference!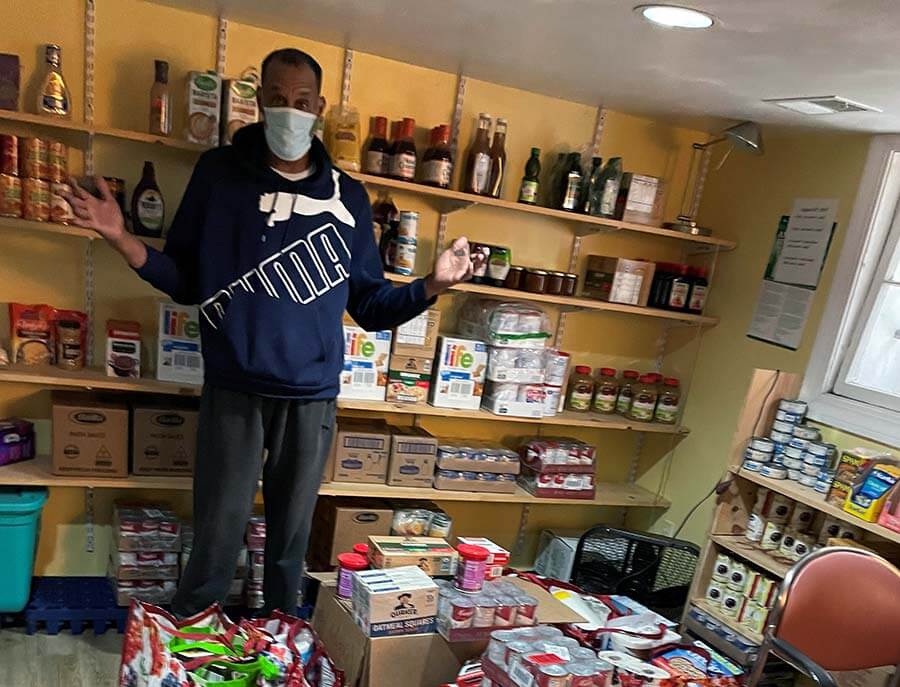 Started in 2011, the Woodley House Food Pantry is open to all DC residents. Our Food Pantry serves 65 households with 400 food orders per year. Open every Tuesday afternoon, we offer food staples, personal care items and bagged groceries to our apartment residents, as well as our DC neighbors-in-need, who make up 65% of Food Pantry customers. Contact Sue Breitkopf at sbreitkopf @ woodleyhouse.org to help. For more on how to access our weekly Food Pantry open to all DC residents, click
here
.