27th Annual Movie Benefit
Join us Sunday, December 10th for a special screening of The Holdovers and support Woodley House's life-sustaining housing program and support services for individuals living with mental illness.
EVENT DETAILS
Sunday, December 10, 2023
AFI Silver Theatre and Cultural Center
8633 Colesville Road
Silver Spring, MD 20910
VIP Reception – 5:30 PM
Doors Open – 6:30 PM
Program Begins – 7:00 PM
Complimentary valet parking will be available for all guests.
Questions? Contact development@woodleyhouse.org.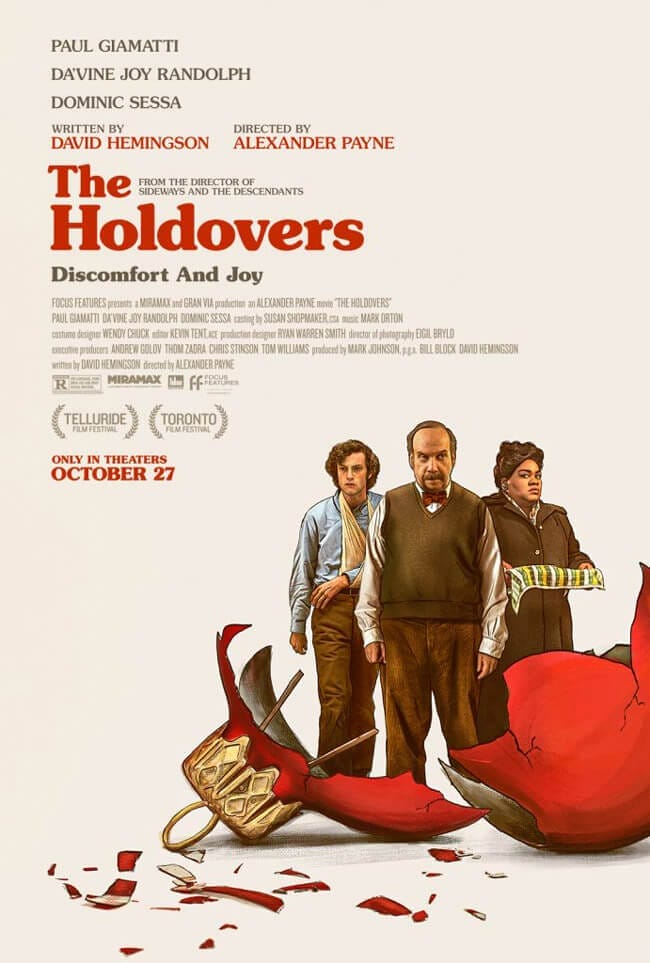 Woodley House is thrilled to announce that we will be showing feature film, The Holdovers, thanks to the generosity of Universal Studios.
From acclaimed director Alexander Payne, The Holdovers follows a curmudgeonly instructor (Paul Giamatti) at a New England prep school who is forced to remain on campus during Christmas break to babysit the handful of students with nowhere to go. Eventually he forms an unlikely bond with one of them — a damaged, brainy troublemaker (newcomer Dominic Sessa) — and with the school's head cook, who has just lost a son in Vietnam (Da'Vine Joy Randolph).
Executive Producer
D|Watts Construction
Director
Grace Community Church
Cathy Sulzberger & Joseph Perpich, MD
Screenwriter
Contemporary Electrical Services
Isabel & Jerry Jasinowski
Diane & Gareth Murray
Linda Parisi & J.J. Finkelstein
Trehan Foundation
Eugene Tillman
Red Carpet Patron
Kelley & Nick Barnaby
Heinz Family Foundation
New Potomac Partners, LLC
Ann & Walter Pincus
Marsha Pinson
Rock Spring Contracting
TMC Electric
Kristin Usaitis & Carolee Van Horn
Film Fanatic
Bernard Arons & Nan Aron
David Backer
Nina & Raymond Benton
Jeanine Boyle
Shirley Brewer-Burgess
Pat & Breaux Castleman
Ann Chauvin & Christopher Wiggs
Marilyn & Bill Dabaghi
Allana & Evan D'Amico
Disability Opportunity Fund
Diversity Works
Teresa Doniger
Leslie & Tony Fitch
Julie Jernigan Galloway & Lee Galloway III
Lorna Hyde Graev
Wendy Gray & Steven Pearlstein
Noel & Christian Holmes
Film Fanatic (continued)
Dave Joseph, PhD
Linda Kanefield & Norm Schneider
Cheryl & Vincent Keane
Gail A. Lione & Barry L. Grossman
Vicky Marchand
Catherine May & Jeffrey Maletta
Linda Meixner
Dina Moussa & Leith Shafi
Molly Raiser
Julia Slutsman & Matthew Hoffman
Jan Solomon & Ken Simonson
Kiyo & Mark Tukman
Elizabeth Walsh & Reid Simon
Jennifer & Thomas Windom
Tommy Zarembka
DONALD A. BROWN
ROSE AWARD

Joseph Perpich, MD
Longtime supporter
COMMUNITY IMPACT
LEADER AWARD
Edith "Edee" Michiko Maeda*
Former Executive Director
*In memoriam